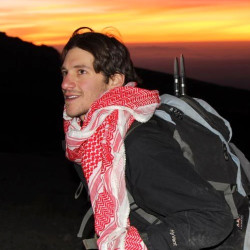 Gilad Goren
Los Angeles, California
Travel & Hospitality, sustainability, entrepreneurship, community-building
Gilad Goren is a social entrepreneur born and raised in the travel industry. Through his projects, writing and speaking opportunities, he seeks to push the world's largest industry to meet its potential for positive impact on a global scale.
What if the industry that encompasses ten percent of global GDP and employs every eleventh person on earth would be able to meet its potential for positive impact? That is what Gilad is seeking to find out.
Gilad is the founder of tech startup Raleigh&Drake , global nonprofit Travel+SocialGood and impact consultancy Only Six Degrees. He has spoken at venues such as the United Nations, PURE Experiences, Social Media Week, NY Times Travel show, AirBNB Open, and more. In the spring of 2016, Gilad taught a MA course on sustainable tourism at NYU, and has been published in several media outlets. He currently resides in New York City.
---
Minimum: 30 Minutes
$52.50
---