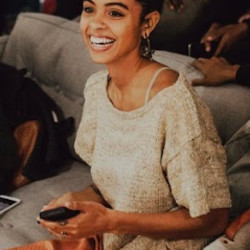 Sara Elise
Brooklyn, NY
I'm a strong believer that we are all agents in our own lives. We shouldn't live an "accidental" life that isn't shaped by intention and excitement. Work with me to begin making changes so that you too can live the life you want to live. I'm a Lifestyle Consultant available for coaching regarding passion exploration, transitional life moves (ex- leaving a job or relationship or eating habits that no longer serve you), small business creation, budget review, resume review, and food & health mentorship.
Sara Elise is the owner of Harvest & Revel- a collaboratively-run, women-led, full service catering company based in Brooklyn that focuses on using organic, seasonal, locally sourced ingredients to create elegant culinary experiences.
While working in Private Wealth Management after business school, Sara started to explore food as a tool for self-care and healing. Through this exploration, Sara began hosting "Seasonal Tasting Events," an invitation for community members to experience an authentically rustic, slow, and organic relationship to the crops harvested for the empowerment and reclamation of self, and community. In the midst of planning these events- she knew that to continue her growth and evolution, she needed to leave her full-time job- where she increasingly felt the negative effects of being over-worked and surrounded by toxic and superficial energy. Sara eventually left after founding Bed Stuy Kitchen in 2013- reborn as Harvest & Revel in 2016.
Not only an advocate for food justice, Sara is also committed to the personal development of creatives, urban professionals, and primarily women of color- offering sliding scale career coaching and mentorship services. She is also moving towards hosting day-long retreats focused on combining delicious food, career coaching, and aspects of self-care & meditation- with the overarching belief that people are able to grow to their fullest potential only once all aspects of their life are aligned positively.
With her background in both financial services and personal nutrition & wellness, Sara works to elevate both her clients and her community to elevate to their fullest selves- one nutritious meal, and conversation, at a time.
Photo credit: KIN and Ray Spears
---
Minimum: 15 Minutes
$10.50
---