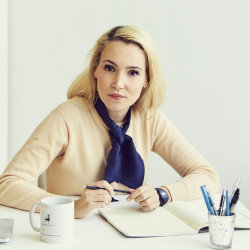 Alex Serio
Brooklyn, NY
Alexandra Serio is a media entrepreneur, producer and cultural strategist straddling the lines between pop culture, technology and digital content. She is currently Chief Creative Officer & Co-Founder of Nameless, a video start-up that pairs the best videos on the Internet with realtime chat i.e. television for the next generation. She previously served as Director of Content Development at SFX where she helped launch the Beatport News product. Prior to that she helped launch Noisey, VICE's music channel where she served as Global Activation Manager. Alex is a proud member and Kate Spade Scholarship recipient of NEW INC, New Museum's art, technology and design incubator–the world's first museum-lead incubator. In 2015 she was cited as a creative trailblazer in the media industry by Vanity Fair.
Specialties:
• Publishing & New Media
• Native Content
• Digital & Video Strategy
• Entertainment & Music Narratives
Consulting on: new media, digital strategy, tech entrepreneurship.